The Search For The NIGERIAN BREAD, FUNAAB Don, Prof Idowu Tasks Private Sector to Develop Non-Wheat Local Raw Materials
A Professor of Food Science and Technology, Prof Michael Idowu has called on the private sector to sponsor and introduce a new product known as the "Nigerian Bread" into the market just like there are British, German, French and Arabians have their own variant of bread.
The Don stated that the introduction of the "Nigerian Bread" which will be a product of composite flour technology sourced from non-wheat local content, would greatly impact the nation's economy and reduce dependence on importation of raw materials.
Prof Idowu made this call while delivering the 81st Inaugural Lecture of the Federal University of Agriculture, Abeokuta, held on Wednesday 6th September, 2023 at the Oluwafemi Balogun Ceremonial Building.
According to him, sourcing local content to produce purely Nigerian Bread will cause an upsurge in the demand for non-wheat flour in food grade, quantity and quality, adding that the demand could provide job opportunities for the unemployed and improve economic activities leading to Sustainability of the composite flour technology.
In his submission, he therefore urged private organisations to assist the government in the funding of research and development in Universities and research institutes so as to improve University-Industry relationship and increase commercialisation of research results.
Delivering his lecture titled; Composite Flour Technology for sustainable Bread Production, Nutrition and Food Security in Nigeria, he said there is the need for the establishment of a National Research Centre with the mandate to plan, execute and evaluate researches of national importance.
He added that such Centres will also be involved in harvesting research outputs from various tertiary and research institutions for commercialisation and implementation to further generate income for both researchers and sponsors as well as to make funding available for more research in the future.
Earlier, the Vice – Chancellor, Prof.Olusola Babatunde Kehinde who is the Chairman of the Inaugural Lecture in his introductory speech read the profile of the Inaugural Lecturer.
He described him as a man whose track record spoke volume of experience, a proven researcher, tested scholar, a mentor and a silent achiever.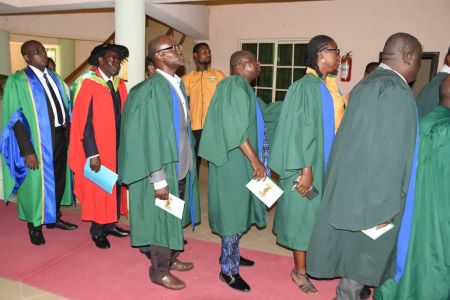 Last Updated on September 8, 2023 by Olalekan Erinfolami