Establishment of Ceadese
A special multidisciplinary grants committee, under the supervision of the current Vice Chancellor Prof. F. K. Salako (then the Deputy Vice Chancellor – Development) sat to bid for the establishment of the World Bank Africa Centre of Excellence in the Federal University of Agriculture, Abeokuta (FUNAAB). The competitive bid went through the 4-stage process, and FUNAAB was awarded the Africa Centre of Excellence in Agricultural Development and Sustainable Environment (CEADESE) in 2013 with very high grades. The Centre officially took off in FUNAAB on 16th February, 2014 via a letter from the Association of African Universities Secretary General. However the formal enrolment of students into the Centre commenced by September, 2014, following the approval by the University Senate. The Centre was focused on the tripodal mandate of teaching, learning and research excellence in agricultural productivity under sustainable environment. CEADESE was established to meet the challenges of producing a new generation of industry-ready scientists and deploy cutting-edge research outcomes that will impactfully lead to agricultural productivity through the development of innovative and resourceful products within a sustainable environment. The Centre has since emerged as a regional food security power house where demand-driven, result-oriented, and policy-focused issues are being critically addressed.
Vision
To develop self-reliant agripreneurs that will feed sub-Saharan Africa now and in the future.
Mission
To conduct teaching, applied research and extension for Scientific and agricultural development in a sustainable environment within sub-Saharan Africa.
Philosophy
The main philosophy guiding the training of students in the six programmes of CEADESE was conceived out of the dire need to lead cutting edge research in Nigeria, West Africa, Sub region and Africa to enhance agricultural development through innovative and resourceful products, animal breeds/strains and safe nutritious feeds/foods in an environmental friendly and sustainable manner.
The regional skill manpower to be produced was to be adequately furnished with comprehensive information required for engaging agricultural production in an environment characterized by rural setting and adequate land endowment. They were also expected to develop and maintain strong links with relevant agro-based industries, providing much needed practical solutions to identify simple and complex issues through targeted demand-driven end user oriented multidisciplinary research. Such knowledgeable professional manpower were to be carefully and painstakingly produced in an atmosphere endowed with the widest possible human and material resources through the adoption of effective techniques of instruction, and exposure to National and International partners, proven industry partners, captains of industries and seasoned academics.
Consequently, the programme was to provide opportunities for training only at Postgraduate levels leading to acquisition of new specialized and research-based Masters and Doctorate degrees in Agricultural Development and Sustainable Environment.
Structure
The Centre runs six (6) programmes using multi-disciplinary approach to sustainable development. These include:
Livestock Science and Sustainable Environment;
Agricultural Economic and Environmental Policy;
Crop and Pasture Production and Sustainable Environment;
Food Processing and Value Addition;
Environmental Systems and Climate Change;
Agricultural Mechanization and Sustainable Environment.
Objectives
To introduce new specialized postgraduate programmes leading to Masters and Doctorate degrees in Agricultural Development and Sustainable Environment;
To expand the educational and practical competence of graduates of the programme for employment especially in the industrial sector to drive the transformation of Agriculture for higher productivity and food security in West Africa;
To expand the competence in solving Agricultural/Livestock problems in the West Africa sub-region through capacity building of faculty, students, industry stakeholders, parastatals and farms;
To act in synergy with the mother institution in establishing an innovation platform for knowledge flow and collective dialogue between farms, researchers, related industries, Agricultural business and Higher Educational Institutions.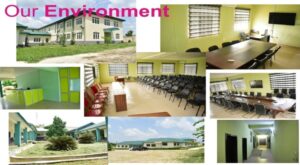 Goal
The goal of CEADESE is to be a leading learning and research centre in facilitating sustainable agricultural development for enhanced livelihoods; strengthening the weak link and cooperation between agro-based industries and farms on one hand and the research institutions on the other hand to produce required synergy needed for sustainable development in Africa. Action plans to achieve these objectives were divided into two broad activities: capacity building and research activities in collaboration with industry and other stakeholders in Agriculture. The capacity building programme involved introducing new post-graduate curricula leading to Master & Doctoral Degrees in Agricultural Development and Sustainable Environment in response to specific productivity challenges, short-term skill acquisition for industry stakeholders, specialized workshops and to introduce internships during postgraduate studies. The action plan for the research programme consisted of partnering with regional and international centres to conduct postgraduate students' research that are demand-driven and will lead to regional development. This was intended to forge closer relations with industry and stakeholders in Agriculture in order to respond to their developmental needs through demand-driven research projects. In addition, the Centre was embarking on thematic agricultural research projects of international interests targeted at mitigating climate and environmental challenges in the sub-region.
Unique Feature – Internship
All CEADESE students and faculty must participate in the 2-months students' internship and 1-month faculty outreach programmes respectively.
Regional Scope
Since its inception, CEADESE has enrolled 75 PhD and 100 MSc students from some African countries such as Benin, Gambia, Liberia, Togo and Nigeria, many of whom have graduated and are currently working in their home countries.
Management Profile
CEADESE was conceived as an autonomous academic/research Centre in the University with the academic components under the Postgraduate School. The Centre is headed by a Director with a management team consisting of six Programme Leaders, Assistant Programme Leaders, Industry liaison officers, Monitoring and Evaluation officer, Safeguard Officer and a Deputy Director, There are also administrative and finance support staff made up of a Senior Accountant as Finance Officer, Internal Auditor, an Administrative Officer, and an IT Officer. Other support staff include Administrative Officers and IT specialists.
The levels of hierarchy between management and staff are minimal. All administrative and finance staff report to the Director and are involved in the decision-making process therefore, allowing the Centre to run effectively and efficiently. For academic activities, the Programme leaders also have specific responsibilities and work directly with the assistance with minimal supervision by the Director.
CEADESE has a Management Board which oversees the running of the Centre. The Committee is chaired by the Vice Chancellor and consists of the Director, Deputy Director, Programme leaders, Assistant Program leaders (all appointed by the Vice-Chancellor), Centre Monitoring and Evaluation Officer, Centre Safeguard Officer, Centre Communications Officer, Centre Accountant, Centre Procurement Officer and FUNAAB Director of Academic Planning. The Scientific board, chaired by the Director, oversees all academic activities, and has all academic members of the Management board as members. The Centre has Quality Assurance committee, Audit Committee chaired by a representative of the Governing Council, Admissions Committee comprising of all Program Leaders and Assistants who are in charge of student selection and enrolment, a Procurement office which ensures that products and services acquired at the Centre are in line with World Bank and Nigeria's Bureau for Public procurement laws.
Even though CEADESE operates as an autonomous accounting unit in the Federal University of Agriculture, Abeokuta, requiring only a one-step approval of the Vice Chancellor for its financial operations as advised by the Donor, it conforms to the general University structure with regard to the classification of income and expenses. CEADESE's accounting system, therefore, complies with the University chart of accounts. Additionally, CEADESE is subjected to the University's internal control measures including auditing. The Centre is also subjected to regular external audits. In some instances, the external audits have been commissioned by the donor organizations. There have been other external audits which have been commissioned following the competitive selection of auditors.
CEADESE operates a prior approved budget with donor-agreed reporting timeline under the innovative overall system known as the result-based financing model. This has implications for strict compliance with grant agreement letters especially regarding reporting timelines and budget allocation. Proposal and concept note development are, therefore, underpinned by transparency and all-inclusiveness so management and staff are abreast of developments. Members of the Finance Committee have regular meetings on expenditure plans and best practices are followed at meetings.
National and International Accreditation
All the postgraduate programmes run by the Centre have full National accreditation by the National University Commission. Also, the 12 programmes of CEADESE (6 MSc and 6 PhD) obtained international accreditation based on European educational standards – the first of its kind by any public Institution in Nigeria The international accreditation was conducted by AQAS – Agency for Quality Assurance through Accreditation of Study Programmes based in Germany.