The University today, December 22, 2021 took delivery of more farm machinery to enhance service delivery and also, to complement the existing equipment at the Directorate of Environmental Management (DEM), Directorate of University Farms (DUFARMS), and the Directorate of Works and Services. The equipment were 14-Meter High Scissors Skylift, Knapsack Sprayers, Brush Cutters, Push Mowers, Slashers, Riding Mower, 75HP Tractors, Tree Trimmers and Motorised Sprayers.
Speaking at the event, the Vice-Chancellor, Professor Felix Kolawole Salako stressed the need for proper maintenance of the machinery, adding that they are to be judiciously utilised.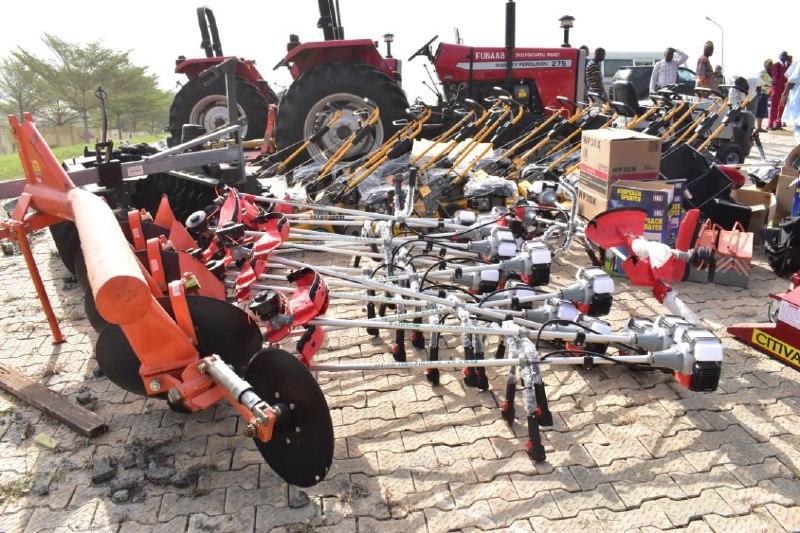 While handing over the keys of the tractors and other machinery to the Ag. Director, DUFARMS, Mr. Olumuyiwa Maraiyesa and the Ag. Director, DEM, Mr. Mosunmade Ogunlami, as well as the Scissors Skylift to the Director, Works and Services, the Vice-Chancellor said that the tractors and other farm machinery would complement the efforts of the existing ones, adding that the Skylift would be used for rooftop repairs and changing of bulbs at the Professor Oluwafemi Balogun Ceremonial Building, including University-wide streetlights maintenance.
It would be recalled that brand new 4-Wheel Drive Pick-Up Vans and a Diesel Dispensing Truck were recently purchased for the Veterinary Teaching Hospital (VTH), and the Works and Services Directorate to increase productivity.
Present at the event were the Deputy Vice-Chancellor, Academic, Professor Bolanle Akeredolu-Ale; Registrar, Dr. Bola Adekola; Bursar, Mr. Chukwuwinke Ezekpeazu and the University Librarian, Dr. Fehintola Onifade.
Others were the representative of the Deputy Registrar I, Vice-Chancellor's Office, Mrs. Folashade Giwa; Head, Directorate of Public Relations, Mr. Kola Adepoju as well as staff members of the Project Management Unit (PMU), Vice-Chancellor's Office, in addition to some staff members of DUFARMS, DEM and the Works and Services Directorate.
Last Updated on December 30, 2021 by FUNAAB