Prof. AYO-JOHN, Emily Ibitaiyewa
Degree: B. Sc., M. Sc., Ph. D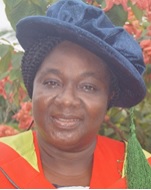 E-mail: ayo-johnei@funaab.edu.ng; eiayojohn@hotmail.com
Tel: +234 803 7233230
Department: Crop Protection
Academic Rank: Professor
Area of Specialization: Plant Virology
I studied at the University of Benin, Benin and I graduated in 1990 with B.Sc. Hons. (Botany). I was admitted into the M.Sc. program in Agricultural Biology (Plant Pathology) at the University of Ibadan in 1991 and graduated in 1992 and PhD (Plant virology) in 2005.
I joined the Department of Crop Protection, FUNAAB in 1999 as Lecturer II and rose to the position of Professor of Plant Virology. Currently the only female Professor of Plant Virology in Nigeria.
I have served as Ag. Head of Department between December 1 2016 and November 30 2018. Visiting Scholar Texas A & M University United States of America under the USDA Faculty Exchange Program between August and December 2009. Visiting Researcher at IITA-Ibadan (September 2017) under the CEADESE Faculty Exchange Program. Associate Scientist FUNAAB Biotech Centre 2005 till date.
I have held several positions as Level Adviser, Undergraduate and Postgraduate Course coordinator, Undergraduate and Postgraduate Seminar coordinator, Member College Board of Studies, College Board, SWEHOMAC, HOUSEPAC, and Treasurer, Nigerian Association of University Women (NAUW) FUNAAB Chapter. Outside the University I have also been invited as Postgraduate Examiner, Reviewer for many local journals. I was elected for a second tenure as Secretary Nigerian Society for Plant Protection (NSPP) to serve between March 2017 and March 2019. I am currently the Secretary, NSPP-Board of Trustees.
My current Research interests include Plant virus Diagnosis and epidemiology of fruit vegetable viruses and Management. I have supervised over 90 undergraduate students, 11 Masters Students and currently have Ph.D. students under my supervision. I have published many foreign and local peer reviewed journals.
Last Updated on September 14, 2020 by FUNAAB