FUNAAB Radio 89.5FM is the campus radio station of the Federal University of Agriculture, Abeokuta (FUNAAB), Ogun State, Nigeria that caters for the needs of key demographics represented within the University and its adjourning community in line with the institution's tripodal mandate of teaching, research and extension services. FUNAAB Radio was envisioned by the then Director of Agricultural Media Resources and Extension Centre (AMREC), Prof. Felix Kolawole Salako in the Year 2010, under the leadership of the 4th Substantive Vice-Chancellor of FUNAAB, Prof. Oluwafemi Olaiya Balogun.
Having met all regulations and requirements by the National Broadcasting Commission (NBC), the licence was issued in the year 2016. The radio project was completed in February 2018 and was ready for test transmission. Test transmission started on March 28, 2018, which ran for a period of ten weeks before the commencement of full transmission.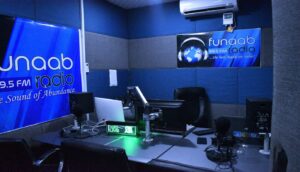 Vision
To be the leading broadcast station with excellence and professionalism, providing an interface for knowledge, education and entertainment.
Mission
To provide quality programming that would propagate the ideals of the University, the cause of agriculture, and to create an inspirational platform for everyone within the academic community to discover their potentials.
Operations
The radio station was licenced basically to disseminate information within the University and adjourning communities, to train students in broadcasting and other-related fields like communication studies, engineering, information technology and use of English by providing opportunities for practical experience and promoting the social well-being of members of the University community.
The radio station is manned by experienced journalists, administrators and other categories of personnel such as freelancer broadcasters and volunteers. Students are encouraged to play an active role in the running of the station. The studios are well equipped with state-of-the-art facilities.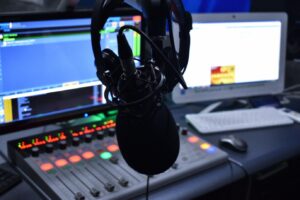 Structure
The radio station maintains a very high social media presence while members of staff work together as a team. There are four teams in existence to carry out the various activities of the station, namely: production/editorial, marketing/advertisement, social media, and welfare teams. Currently, the station operates from Mondays to Fridays, between 9am and 4pm.
Programmes
There are varieties of interesting programmes that have been developed in the right proportions and in line with the provisions of the NBC Code. These programmes include:
The Researcher;
Our Farmer;
Today's Class;
Boiling Point;
Radio Law Clinic;
The Entrepreneur;
Youth Matters;
Feminine World;
The Senior Citizen;
Sports Galaxy;
Alumni Home-Coming;
From the Editorials;
Agbedotun;
Health Watch;
Security Alert;
Le Cercle Francais (French); and
From the Dailies.
Slogan
FUNAAB Radio … The Sound of Abundance.