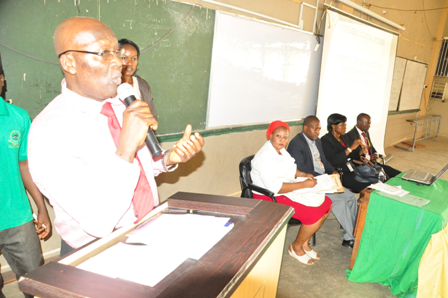 The Director, SIWES, Prof. Tunde Ajayi addressing the prospective interns during the Orientation Programme. On the high table from right are the Training Development Officer, Mr. Amona Emmanuel; the Head of Training, Mrs. Ayodele Shodunke; the SIWES Accountant; Mr. Gbadamosi Solomon and the PRO, Mrs. Wuraola Onaleye.
The Head of Training, Industrial Training Fund (ITF) Abeokuta, Ogun State, Mrs. Ayodele Sodunke has described the benefits of the Industrial Training to students as beyond just Education, but about Training, Development and Learning.
Mrs. Sodunke made this known during the 2013 Student Industrial Work Experience Scheme (SIWES) Orientation Programme of the Federal University of Agriculture, Abeokuta held at the Oba Oyebade Lipede Multipurpose Building for intending Industrial Training (IT) students.
According to her, the IT programme is basically meant to prepare, expose and equip the students with requisite employability skills, adding that it will be in a form of on-the-job training process in which students in relevant fields are exposed to actual work setting.
On ITF relevance to the students on Industrial Training, she hinted that the Industrial Training Fund sees to how learning is engendered in the context of work and how work is influenced by learning.
Earlier speaking during the programme, the Director, SIWES, FUNAAB, Professor Tunde Ajayi admonished the students to be good ambassadors of FUNAAB, by conducting themselves positively wherever they may be carrying out their Industrial Training.
Professor Ajayi however encouraged them to tap from the experience they will be exposed to during the period of training with their various employers.
Last Updated on February 21, 2013 by admin