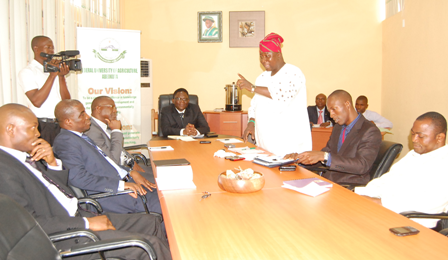 Ogun State NUJ Chairman, Com. Wole Shokunbi speaking during the Courtesy Visit while the Vice-Chancellor, Prof. Olusola Bandele Oyewole (Middle), the DVC (A), Prof. Toyin Arowolo (3rd Left), the Bursar, Mr. Moses Ilesanmi (2nd Left) and the Dep. Director, PR, Mr. `Lasun Somoye listen.
Nigeria Union of Journalists (NUJ), Ogun State Council has commended the University (FUNAAB) for emerging the Second Best University in the country and 29th in Africa, according to the latest international web ranking of institutions in the world.
The State Chairman of NUJ, Comrade Wole Shokunbi gave the commendation when he led the new Executive of the Union on a courtesy visit on the Vice-Chancellor, Professor Olusola Bandele Oyewole in his office.
Impressed by FUNAAB's feat in the latest ranking, Shokunbi said he was not surprised because the University is a stickler to merit in service delivery and discharge of its statutory functions.
He also attributed the success to hardwork, discipline, commitment of the Management, staff and students to realizing the Vice-Chancellor's dream of making the University a World-class.
The NUJ Chairman, who also lauded the speedy recovery and restoration of FUNAAB from the previous 11th position to 2nd, described it as a reflection of Professor Oyewole commitment to not only sustaining the legacy and tradition of excellence that FUNAAB is known for, but better still, to improve vastly on it.
Shokunbi, who is also the former Press Officer to Governor Ibikunle Amosun and former Governor Olusegun Osoba said he was unshaken in his conviction that with the latest ranking, the University's Journey to a World-Class institution has started.
According to him, "I want to say FUNAAB is the only University that employ or give admission to students on merit.  This University is merit based.  I'm not surprised you are the Second Best in Nigeria and now 29th in Africa.  This is well deserved".
Speaking further, Shokunbi who cut his teeth as a journalist in the now rested Daily Sketch Newspapers thanked the Management for its cordial relationship and peaceful co-existence with the State Council and members at large.
He stressed that the new Exco of NUJ, which according to him was inaugurated on September 15, 2012 looks forward to a better relationship with the Management.
Shokunbi, who used the occasion to congratulate Professor Oyewole over his appointment as FUNAAB's Vice-Chancellor, thanked him for a job well done within the short time he assumed office.
Last Updated on February 21, 2013 by admin