Christians have been urged to imbibe the spirit of hymnal singing because it is the centerpiece of Christian worship and services and an avenue to bring down God's presence.
Giving this charge was the Chaplain, Chapel of Grace, Federal University of Agriculture, Abeokuta (FUNAAB), Professor Christian Ikeobi at the maiden edition of FUNAAB Community Hymn Singing Concert, organized by The Boys Brigade Nigeria, FUNAAB, 2nd Ogun Cadet Company in partnership with Chapel of Grace, FUNAAB.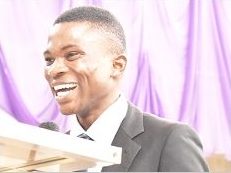 The Chaplain highlighted the spiritual benefits of hymn singing in the presence of God to include deliverance, steadfastness, strength and abiding faith in God.
Professor Ikeobi urged the Congregants to lean on God for guidance, direction and inspiration advising all Christians to sing when they did not feel like; to sing to demonstrate their faith in the Almighty God and to experience his divine power. While urging Christian to trust God with all their hearts, the Chaplain added that hymn singing was a way to get God's blessings.
According to him "it is important to know the stories behind the songs so that we can receive inspiration and guidance from God.
In his welcome address, the Captain-in-Charge and Convener of the Boys Brigade Nigeria, 2nd Ogun Cadet Company, Mr. Oluwasolamipe Akanji said the FUNAAB Community Hymn Signing was a spiritual programme which brings together people in the FUNAAB Community and its environs under an atmosphere of worship saying it was organized to remind Christians of the death, burial, resurrection and the second coming of Christ.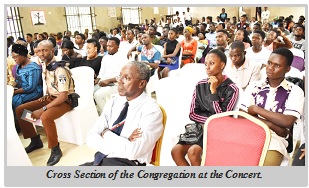 Highlight of the programme was the rendition and performance of some Christian songs written by notable Christian song writers. Some of the songs are Holy, Holy, Holy written by Reginald Herber; Old Rugged Cross by George Bennard; Onward Christian Soldier by Sabine Baring-Gould. It is well with my soul by Horatio Spafford, among others.
Dignitaries that attended the Community Singing Concert included the Assistant Chaplain of the Chapel, Professor Adewale Dipeolu, Prof. Isaac Aiyelaagbe, Rev. (Mrs.) Olokode, Ogun State President, Boy Brigade, Nigeria Mr. Olufemi Adeniji and Ogun State Bandmaster, Boys Brigade Nigeria, Mr. Oluwasegun Adeniji.
Prayers were offered for the continued peace and progress of the University, Ogun State and Nigeria.