The outgone members of the National Youth Service Corps (NYSC) that served in the Federal University of Agriculture, Abeokuta (FUNAAB) have been charged to stand themselves out from the crowd as they go out into the real world after service to their fatherland.
Giving this charge was the representative of the Vice-Chancellor, Deputy Vice-Chancellor, (Development), Professor Lateef Sanni during the send-forth ceremony organised by the University for the Corps members.
Congratulating the ex-corps members, Professor Sanni tasked them not to despise the days of little beginning, but endeavour to learn other international languages which will help them to stand out from other people and equally, learn some extra skills.
Also addressing the ex-corps members, the Deputy Vice-Chancellor, Academic, Professor Morenike Dipeolu appreciated the ex-corps members, and charged them to keep their good memories of FUNAAB alive.
Professor Dipeolu admonished them not to join the band-wagon of the people with the mindset that there is no job in Nigeria. Rather, she advised that they do everything to ensure that they are employable.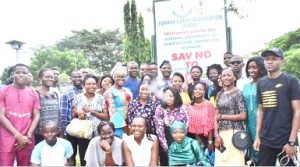 In her motherly character, she prayed for them, and their parents that they will reap the good fruits of the labour they have invested in them.
Appreciating the University for their hospitality towards the outgone corps members, the NYSC Local Government Inspection Officer, Mr. Abdulkarim Kadiri noted that corps members posted to FUNAAB do not complain, describing the University as number one in welfare.
He equally charged the ex-corps members to overlook the uncertainty that life is made up of, but work with a positive mind and be an overcomers of every challenge that poses itself before them.
Appreciating the University management, the Internal Corps Liaison Officer (ICLO), Mr. Bolaji Akindele described their experience as wonderful, and the staff, welcoming to the corps members.
He noted that they have been well trained in FUNAAB, summarizing their experience to be "A home away from home".
In a show of appreciation to the University, the outgone corps members presented an anti social vices sign-post mounted on the ceremonial road to the university, and it was unveiled by the duo of the DVC (A) and DVC (D) on behalf of the university management.