The Acting Vice-Chancellor, Federal University of Agriculture, Abeokuta (FUNAAB), Prof. Babatunde Kehinde has charged youths in secondary schools to be responsible and proactive in choosing their career paths.
Prof. Kehinde gave this charge while addressing participants at the 10th Annual Career Talk, organised by FUNAAB Alumni Association, Abeokuta Branch for final year students in Secondary Schools in Abeokuta.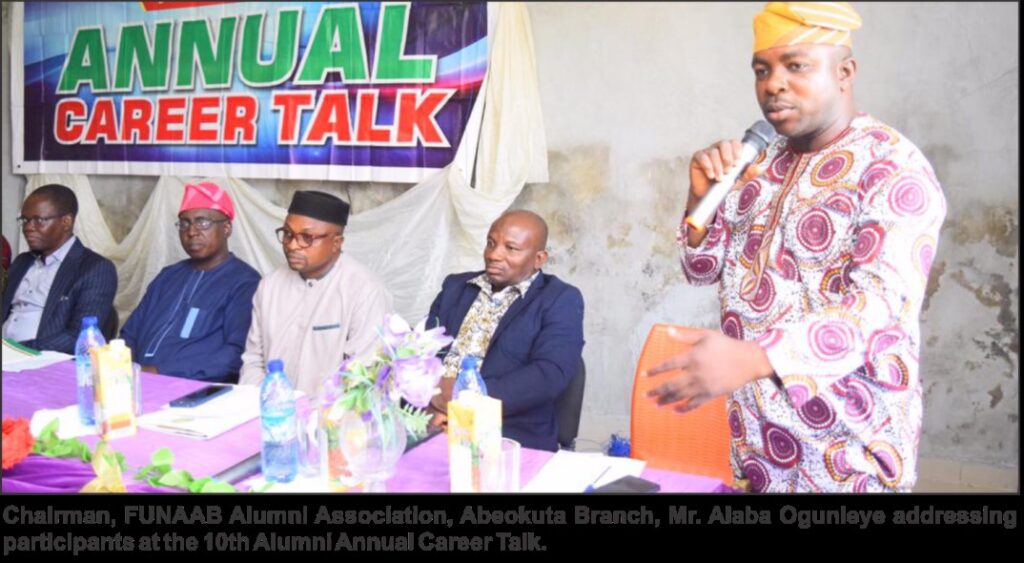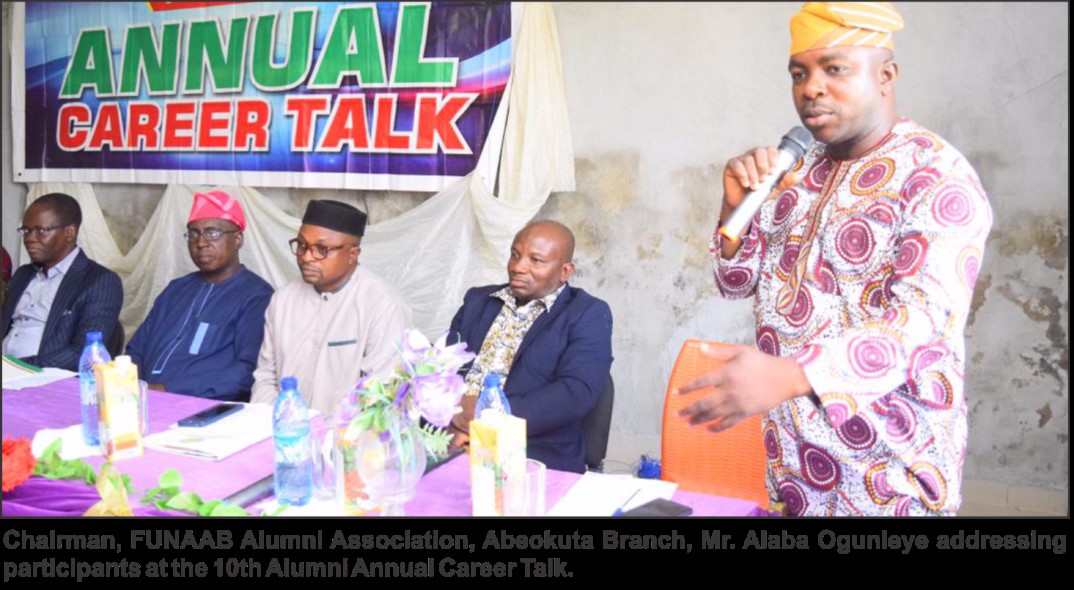 Delivering his Keynote Address, Prof. kehinde encouraged them to disregard wrong counsels which have been designed to lead young ones astray from achieving academic excellence, declaring that education is not a scam, contrary to the believe of some youths.
According to him, "Despite various challenges and insecurities we are currently faced with, you owe yourself, your family, the nation and the world at large the responsibility to grow up and be responsible.
"Also, contrary to opinions that school is a scam, know that school is no a scam, do not be discouraged and make sure you get complete and verified information about how to do well in life", he added.
The Acting Vice-Chancellor further admonished them to be guided in choosing their career path, noting that it is essential for them to get it right now.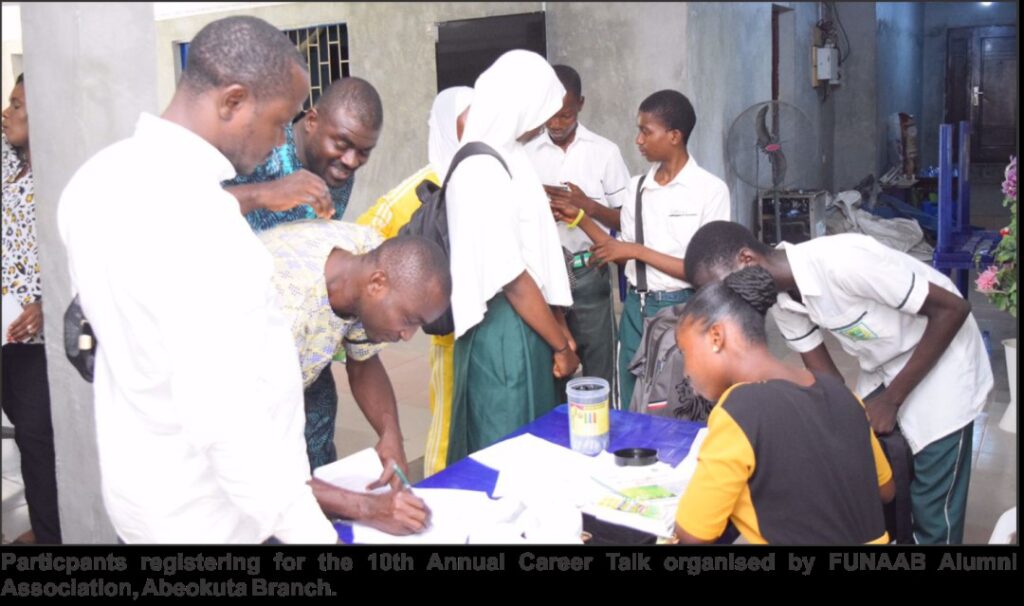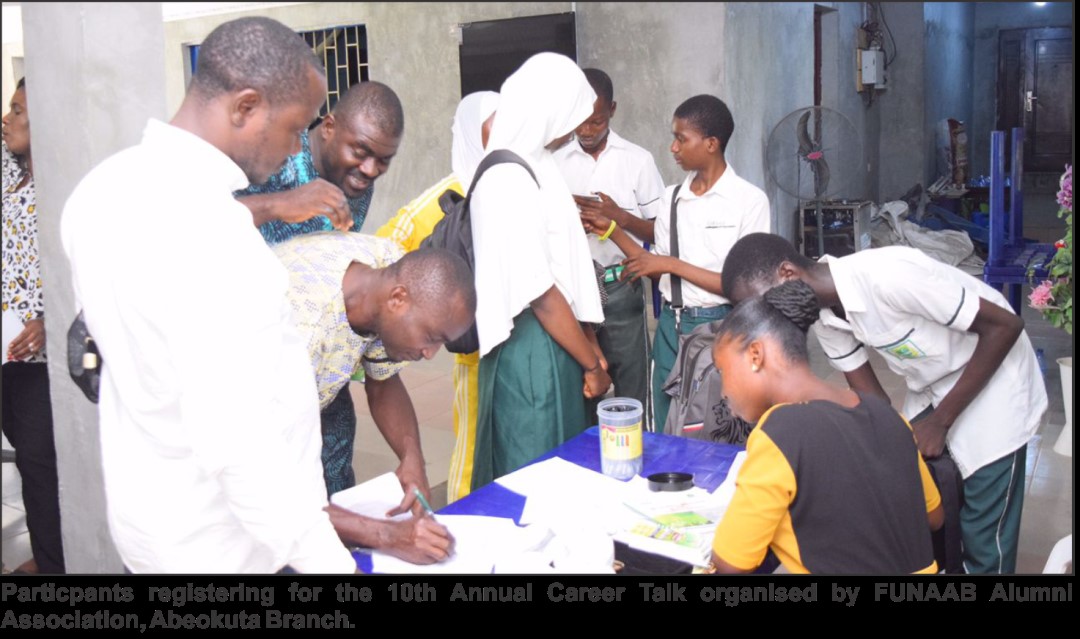 Prof. Kehinde also appreciated teachers present for always guiding the students on the right path, saying that nothing gives a teacher better satisfaction than seeing students that have passed through them doing well in life.
Earlier in his Address, Chairman, FUNAAB Alumni Association, Abeokuta Branch, Mr. Alaba Ogunleye hinted that the programme is an annual event that aims at giving back to the society, especially the young ones.
He said every year, the Career Talk is organised to assist final year Secondary School students to be focused and determined in choosing their career so that they will not derail in future.
Similarly, the National President, FUNAAB Alumni Association, Dr. Olusegun Ogundiran while expressing his happiness at the event, commended the Branch for their wonderful performance, stating that they have been living up to the expectations of holding the programme for 10 years without interruptions despite various challenges.
He stated that the programme is the best for the moment, stressing that it is also a call to service for them to prepare the young ones for the challenges ahead of them.
Delivering a Lecture titled, "21st Century School System: Ways to Success Amidst Insecurity", Dr. Adeniyi Afolabi from the Department of Chemistry stressed the need for the students to achieve academic excellence and a fruitful career in life, noting that they must have the right attitude, be deliberate and intentional in choosing their career path.
He advised them to shield themselves from negative environments and create a positive one for themselves, adding that it is essential for them to expand their knowledge by reading more books.
Secondary Schools in attendance were Egba Comprehensive High School, Asero; Salawu Abiola Comprehensive High School, Osiele; Baptist Girls College, Idi-Aba and Lisabi, Grammar School, Idi-Aba, all in Abeokuta among others.
The students were also exposed to a lecture on Digital Privacy and Digital Security by Mr. Coker Fisayo, personnel of the Nigeria Security and Civil Defence Corps (NSCDC).
Last Updated on December 1, 2022 by FUNAAB