The Vice-Chancellor Prof. Kolawole Salako has sued for peace and integrity among Management, Staff, Students and the various Unions in the University, even as he encouraged all hands to be on deck in order to take FUNAAB to a world class status.
The Vice-Chancellor made this call during the 2021-2025 Strategic Plan Workshop organised for Operators of the Strategic Plan which includes the Deans, Directors, Heads of Departments and Heads of various Units in the University.
Emphasising the need for peace to achieve development and bring about good and healthy working relationships as well as foster peaceful coexistence, the Vice-Chancellor, Prof. Salako stated that "A house divided against itself can never stand, so everyone must work in peace because we can only survive and progress when there is peace".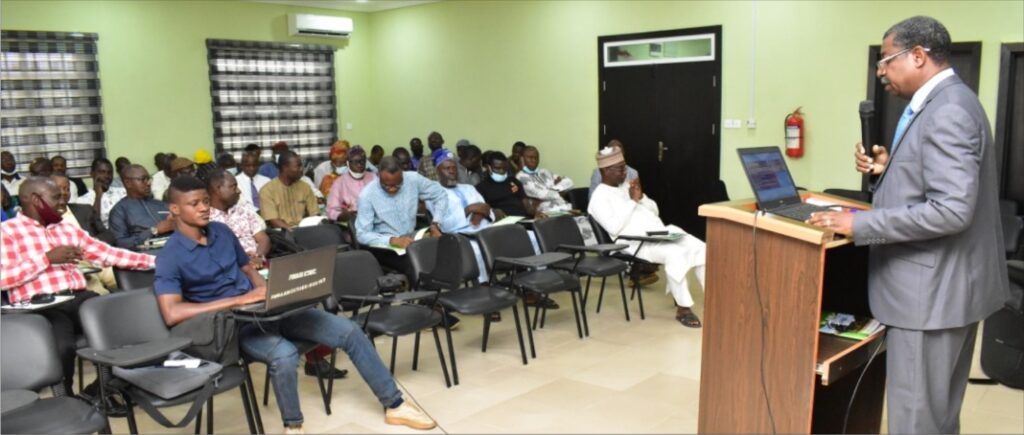 The Vice-Chancellor called on leaders and all concerned stakeholders to pursue transparency and merit in all their dealings while also paying special attention to assignments such as examination process and stand for integrity.
Prof. Salako charged Deans and Heads of Department to ensure that all the results produced in the various Departments and Colleges are on the basis of merit, stressing that if the result of any institution is in doubt, then such is not qualified to be called a University.
The Vice-Chancellor also enjoined the top management functionaries to encourage the young ones to grow and improve themselves. He urged them to avoid overloading them with administrative jobs, adding that though the job has to be done, it should be done through leadership by example.
He reemphasized full compliance to the new strategic plan of the university in order to re-position FUNAAB and take it to greater and higher standards.
Prof. Salako commended the Guest Lecturer, Prof Stephen Afolami and his wife who are both retirees of the University for always standing for the truth and for honouring the invitation to be resource persons at the Workshop. He equally appreciated the Deputy Vice-Chancellor (Development) Prof. Kehinde who did a very great job in putting together such a good document for the Workshop.
Corroborating the Vice-Chancellor, the Guest Lecturer and former Vice-Chancellor, Augustine University Ilara-Epe, Lagos State, Prof. Stephen Afolami appealed to stakeholders to cooperate with one another to uphold quality, integrity and high moral standard which the University is known for, adding that a system survives more when there is less rancour and division.
Prof. Afolami who noted that excellence and integrity flows together, urged all to live a life of integrity even when it involves a close associate or a child as it is only then they can be seen to possess integrity.
He acknowledged that the University is very lucky to have the set of workers it has, which is why the Institution keeps having high ranking scores each time there is accreditation and National Universities Commission (NUC) ranking.
Meanwhile, the Deputy Vice-Chancellor (Development), Prof. Babatunde Kehinde in his Opening Remarks charged the participants to take the Workshop as a serious business and be guided by it so as to not lose focus of the University's vision.
He appreciated Prof. Afolami for honouring the invitation, revealing that the reason for choosing him is because he has passed through FUNAAB and FUNAAB has passed through him, so he is the most suitable personnel for the Workshop.
Last Updated on December 23, 2021 by FUNAAB