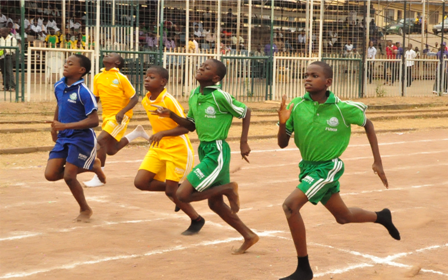 FUNIS Students in a 100m race during the Inter-house Sports Competition.
The Federal University of Agriculture, Abeokuta International School (FUNIS) on Tuesday held her 3rd Biennial Inter-House Sports Competition.
In his remarks, the Vice-Chancellor of the University, Professor Olusola Bandele Oyewole described Sports in a school setting as activities selected and conducted to realize educational outcomes, adding that educational outcomes are the physical, mental and social development of an individual.
The Vice-Chancellor, who was represented by the Director of Sports, Mr. Bayo Oluwatoki said most Nigerian Schools emphasize the learning of art and science subjects and take sports as just an entertainment programme for the students.
He stressed that sports should not be seen as an entertainment programme but a proper co-curricular programme whose teachings form the fundamental part of growth and development of an individual noting that taking part in sporting activities is vital to education and academic achievement.
Professor Oyewole promised to give unwavering support and absolute commitment to ensure an all round development of the students via sports.
In her welcome address, the Principal of the School, Mrs. Adeola Olumide expressed appreciation to Professor Oyewole-led management team of the University for the unflinching support received by the school.
She described the biennial event as essential which cannot be toiled with adding that it will showcase the hidden talents among the students.
Mrs. Olumide enjoined all and sundry to support FUNIS in getting to higher level.
The Inter-House Sports competition featured Match past which was won by Green house, Relay Races, Invitation relay races for invited schools, Parents race, Staff race and Old Students race.
High point of the occasion was the presentation of trophies by the Chairman of the day, Chief Semiu Oganla in which Blue House came 4th with 180 points, 3rd position went to Red
Last Updated on February 21, 2013 by admin