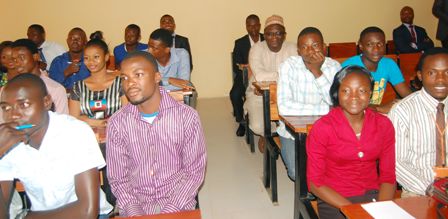 Leadership by example: (Arrowed) the Vice-Chancellor, Prof. Olusola Bandele Oyewole in the midst of the Executives of FUNAAB Student Union at the just concluded Leadership Academy Retreat for the latter.
The President, Federal University of Agriculture, Abeokuta Student Union (FUNAABSU), Comrade Tope Adesipo has described the Leadership Academy Retreat,  sponsored by the University Management in conjunction with Knewrow Resources as a good development.
Comrade Adesipo who made this known in a chat with FUNAAB Bulletin said the retreat was interesting, mind-blowing and educative.
He added that it has opened their eyes to the pros and cons of effective leadership noting that if the knowledge acquired is put into practice, it will be better for Nigeria as a nation.
The FUNAABSU President appealed to Professor Olusola Bandele Oyewole led Management to extend the retreat to a large number of students.
In his presentation, Mr. Dola Adeboye of Food Science and Technology Department, Moshood Abiola Polytechnic, Abeokuta pointed out that the process of effective leadership are: to challenge the status quo, to inspire a shared vision, to lead by examples, to inspire others to actions and to share the glory and keep the pain.
He stressed that a responsible leader must be able to inform, educate, motivate and inspire his followers in order for the group or organization to attain higher level.
The Chief Executive officer of the Knewrow Resources, Mr. Ayo Muritala in his brief Address commended the University Management for the level of infrastructural development that has taken place within the campus which he described as sign of effective leadership.
He disclosed that the motive behind the retreat is to build role models that can occupy leadership positions anywhere in the world as against a situation where people occupy office without making impact.
Other areas of Interest discussed were, Leadership and Diversity, Premises of Communication, Conflict Resolution, Team Work, Social Responsibility and Transparency/Accountability.
The retreat had in attendance Student Union Executives, Principal Officers of the Students Representative Assembly, Principal Officers of the Judicial Arm of FUNAABSU and Head, Male and Female Hall of Residences.
Last Updated on February 27, 2013 by admin