The Vice-Chancellor, Prof. Kolawole Salako has described the University Radio Station, FUNAAB 89.5FM as "Really doing well". The Vice-Chancellor gave this nod while speaking on a live programme in commemoration of the second year anniversary of the radio station. The Vice-Chancellor commended the efforts of the founding fathers of the radio station, particularly a former Vice-Chancellor of FUNAAB, Prof. Oluwafemi Balogun for coming up with a vision of establishing the radio station.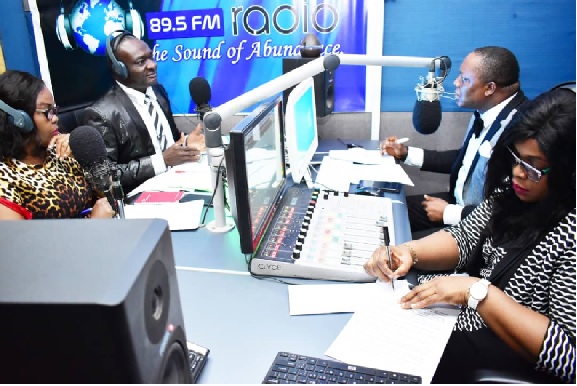 Prof. Salako added that the radio station was living the dreams of the founding fathers, stating that FUNAAB Radio had gone beyond the University's boundaries because of its capability to satisfy the information needs of the people, stressing that radio programmes were germane in communicating scientific facts to farmers. He added that FUNAAB Radio had also served as a laboratory for communication students in the University by providing them the needed training ground to build their careers. According to him, "FUNAAB Radio programmes are very germane in extending scientific facts to farmers, as not all farmers have access to the Internet but many will pick pocket radio with battery to listen. We also run communication studies in this University and the radio has served as a laboratory for training".
"The radio has gone beyond our view; it has helped with security matters whereby members of the Police Community Relations Committee (PCRC) are coming to our radio (station) to have programmes, community leaders coming to talk, and Professors speaking on agricultural, scientific and national issues. A number of our students are also involved in the communication aspect by running the radio as volunteers along with the Coordinator and the rest", he added.

Going down a memory lane, the Vice-Chancellor revealed that there were delays in getting the license for the station, stressing that the license was not obtained until 2015. He added that they never relented until the license was obtained and that tenacity, perseverance and the quest to get good results, contributed to the success of the radio station. He noted that despite the large number of media outlets being used for communication, radio stations would remain a reference point for good journalism. He assured that the reach of the station would go a long way in passing across useful information within the University and the community at large by assisting members to have a better understanding of breakthroughs and scientific research outputs coming from FUNAAB.
Last Updated on April 22, 2020 by FUNAAB