A University Don in the Department of Agricultural Extension and Rural Development, College of Agricultural Management and Rural Development (COLAMRUD), FUNAAB, Prof. Kolawole Adebayo has called on Nigerian youths to be creators of job rather than seeking for white-collar employment. He made the call at the Annual Valedictory Programme of the Agricultural Extension and Rural Development Students' Association (AERUDSA), held in the University.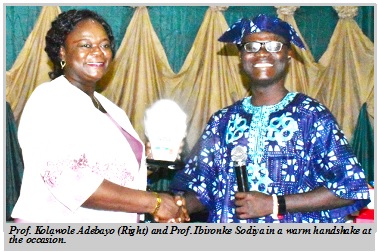 The Don charged the students to be innovative and invest in their future, saying, "It is never too early to start a business, which could grow to become a conglomerate. Invest and do not spend money unnecessarily, as any amount invested can generate more funds for you". He identified integrity as the greatest asset that any investor could have, admonishing the students to be hardworking, dedicated and committed to any business they may decide to embark on.
Prof. Adebayo advised the students not to collect loans from commercial or financial institutions to start their businesses, but should start small and grow gradually. He said that the Founding Fathers of the University had the vision to produce graduates who would be job-creators and not job-seekers, noting that with the present situation of unemployment in the country, graduates must look inwards and develop themselves.

Delivering the lecture titled, "Becoming More", the Guest Lecturer, Engr. Oluseun Onigbinde, Co-founder, BudgIT and an alumnus of the College of Engineering (COLENG) of the University, admonished students to look for ways to proffer solutions to problems, think global and expand their knowledge base, to acquire skills that could be used to generate more money. As students, they should be innovative, develop creative ideas and never give up easily. He identified the attributes of a successful entrepreneur to include being focused, steadfast and courageous to try new ideas. Engr. Onigbinde explained that "Great things take time, so you should find ways to expand your knowledge and be the best in any business you find yourself doing" while encouraging them to be good ambassadors of FUNAAB.
Last Updated on February 17, 2020 by FUNAAB