The Vice Chancellor of Federal University of Agriculture, Abeokuta (FUNAAB), Prof. Kolawole Salako has decried the addiction and obsession of the youths of today to irrelevant fantasy on Facebook and other social media platforms, urging them to "Face their book instead of Facebook".
Prof Salako said in his Remark at a Thanksgiving Service marking his 60th birthday, held at Living Spring Chapel, Onikolobo, Abeokuta on Sunday.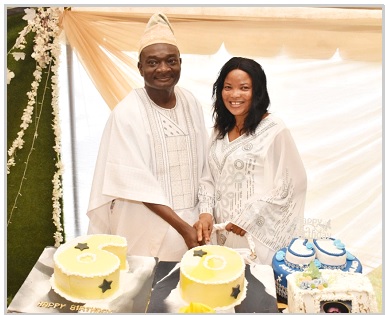 Lamenting the indisposition of contemporary students to reading their books and facing their studies, the University Don frowned at the fact that they have bastardised the positive impact of technology, social media in particular by wasting quality times on immoral fantasy that doesn't add values to their lives and the society.
He noted with dismay that unlike their days when they read and researched deeply, today's youth are fond of consulting Google for answers to everything thereby making them lazy and prone to short cuts of making it in life.
The Vice Chancellor also condemned the prevalence of social vices especially radicalism among youths recalling that despite the fact that he was slightly involved in radicalism while growing up he never allowed it to derail him from his focus on education unlike the youths of today.
Prof. Salako pointed out that as a matter of fact he started nursing the ambition of becoming a Professor right from his secondary school days, affirming that with determination and trust in God any youth can achieve his or her dreams, irrespective of daunting challenges.
He disclosed that God is the cornerstone of his modest success in life describing Him as his Rock, who fought his battles and gave him victory and success as Vice Chancellor.
Earlier in his Sermon, the Pastor of Living Spring Chapel, Abeokuta, Pastor Kayode Ojo who preached on the theme, 'Receiving God's Power" described Prof. Salako as a man who feared God and relied on His power before and now as Vice Chancellor.
He described the power of God as dependable, reliable and permanent, saying all other powers are temporal, stressing that this is the reason why super powers and celebrities of yesterday are shadows of themselves today.
Taking his Sermon from the Books of John chapter 1 verse 2 and Zechariah chapter 9, Pastor Ojo charged the congregation to give their all to Christ, in order to have His unrivalled power.
Special prayers were offered for peace, progress and development of the country and for God's continuous guidance, protection and prosperity of Prof. Salako and his family.
Strictly invited guests, a quantum of who are dignitaries attended the low-key Thanksgiving Service with strict adherence to Covid-19 protocols.
Meanwhile, celebration filled the air and rented the venues of Prof. Salako's 60th birthday ceremony. It was an indelible re-union of the Vice Chancellor with his old school mates, associates, mentors and mentees who thronged the Living Spring Chapel, Onikolobo and the Vice Chancellor's Lodge venues of the Thanksgiving Service and Reception respectively.
The celebrant, Prof. Salako was an embodiment of infectious joy as he danced elatedly, mixed freely and threw banters with leaderships of the Students Union bodies, various Staff Union Executives and the Police Communities Relations Committee (PCRC) among others.
The atmosphere was in perfect harmony of celebration with the celebrant as the weather was cool and calm after the early morning downpour.
Last Updated on April 22, 2021 by FUNAAB