The International Centre for Professional Development (ICPD) of the University has donated a generating set to the FUNAAB Staff School. Speaking at the presentation, the Deputy Vice-Chancellor (Development) and Chairman of Board of ICPD, Prof. Clement Adeofun expressed his joy that the presentation coincided with Prof. Kolawole Salako's third year anniversary in office as the Sixth Substantive Vice-Chancellor of FUNAAB.
The ICPD Centre Manager, Mr. Lawrence Kazeem had stated that the generating set would enhance the learning of computer science by the pupils in the areas of educational cartoon and animation that were introduced by ICPD during the 2019/2020 Academic Session. The DVC (Development) equally stated that pupils of the school were interested in computer science because the world had gone digital and anyone in the present generation, who does not have an in-depth knowledge on the use of computer was as good as not existing. He said that in the future, everything would be digitalised and people would depend on computer knowledge to carry out their day-to-day activities. Prof. Adeofun thanked God for sparing the lives of the pupils and also giving the University Management the wisdom to approve such an appliance for the benefit of the school, while appreciating the Vice-Chancellor for his passion towards the young ones because he places high premium on requests emanating from the school.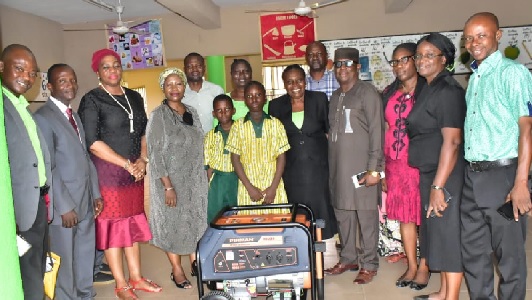 On behalf of the Vice-Chancellor, Prof. Kolawole Salako, the DVC (Development) presented the donation to the Deputy Vice-Chancellor (Academic), Prof. Bolanle Akeredolu-Ale, who doubles as the Chairperson, FUNAAB Staff School Board. In her response, Prof. Akeredolu-Ale appreciated the University Management, congratulated the school and urged them to make the best use of the generator. The Head Teacher, FUNAAB Staff School, Mrs. Florence Alade appreciated the kind gesture and also assured of the judicious use of the generating set.
Last Updated on November 23, 2020 by FUNAAB