The Nigerian Association of University Women (NAUW), FUNAAB Branch has distributed relief materials to members of the University community to promote service to humanity and to sensitise beneficiaries on preventive measures that can be taken to curtail the spread of coronavirus. According to the President of NAUW, Prof. Comfort Onifade, "NAUW is aware that the coronavirus disease (COVID-19) impacts more on women because women are more active in terms of taking care of homes, husbands, children and going out of their way to ensure that there is food for the family. That is why we have decided to extend our hands of love to fellow women in the community, who are the less privileged".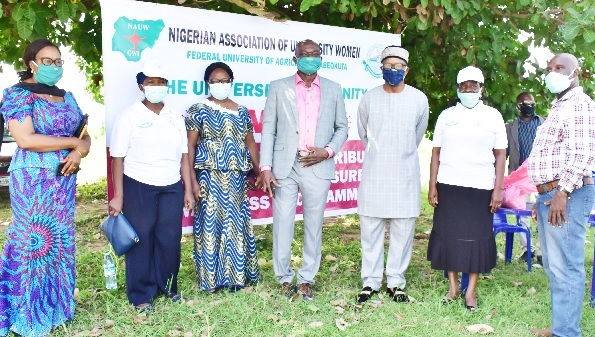 She explained the proper procedure for hand washing for at least 20 seconds, the use of alcohol-based hand sanitisers whenever water was not readily available, the appropriate use of face masks and the need to observe social distancing. Prof. Onifade disclosed that NAUW is affiliated to the Graduate Women International (GWI) with headquarters in Geneva, Switzerland with the aim of encouraging women and the girl-child lifelong education from the nursery school to higher institution levels as well as encourage women to contribute to the development of the country. Commending NAUW for the gesture, the Vice-Chancellor, Prof. Kolawole Salako described it as apt, appropriate and in line with the activities of the University in distributing palliatives to the various communities.

He noted that inasmuch as the University would have wished to provide palliatives for every member of staff, it does not have the capability. Hence, the need for good- spirited associations like NAUW and other individuals to assist people around them as nothing was too little. Prof. Salako appreciated sanitation officers for keeping the University environment tidy, charging them to always put in their best in whatever task they were assigned. Responding on behalf of the sanitation officers, the Head, Directorate of Environmental Management (DEM), Dr. Akinpelu Ojo appreciated NAUW and the University Management for the kind gesture, praying that the Association and FUNAAB would continue to soar higher.
Last Updated on June 11, 2020 by FUNAAB