By Emeka Oluka & Femi Dansu
Rockcity Radio 101.9FM's Management on Thursday, November 9, 2023, paid a Courtesy Visit to the Federal University of Agriculture, Abeokuta (FUNAAB), to seek developmental collaboration.
Speaking on behalf of Rockcity FM, Dr. Niran Malaolu, the Chief Executive Officer of the radio station, expressed his excitement about visiting FUNAAB with his team. He revealed a personal tie he had with the University, stating that two of his children attended FUNAAB International School (FUNIS).
Dr. Malaolu emphasised the necessity for collaboration between Rock City Radio and the University, highlighting their positive relationship over the years. He also discussed the challenges posed by the nation's economic realities, specifically pointing out the deteriorating roads leading to FUNAAB that require urgent attention from both state and federal authorities.
The radio guru stressed the importance of a harmonious relationship between Rockcity Radio and FUNAAB for mutual sustainability, pledging to provide excellent service to FUNAAB, and urging the University to embrace a similar mindset.
Dr. Malaolu recommended proactive measures for addressing road issues without solely relying on the government. "We need to begin to think alike to bring ourselves into the same frame of mind and then begin to take steps", he said.
Earlier, the Vice-Chancellor, Prof. Babatunde Kehinde who was represented by the Deputy Vice-Chancellor, Academic, Prof. Christian Ikeobi, welcomed the Rockcity Radio crew and acknowledged the University's need for the partnership proposed by the radio station.
Prof. Ikeobi disclosed ongoing efforts to fix the road issues, with appeals made to both state and federal governments for assistance.
Present at the meeting were the Deputy Vice-Chancellor, Development, Prof. Kola Adebayo; Executive Director, Rockcity FM, Mrs. Bukola Malaolu; the Director of News, Mr. Tokunbo Oloruntola; Head of Finance and Account, Mr. Temitope Folorunso; Head of Administration, Mr. Olusegun Gbenle; and the Head of ICT, Joshua God's Power.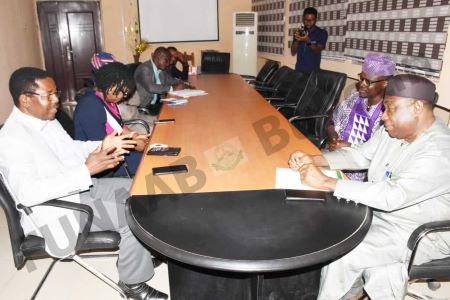 Last Updated on November 17, 2023 by Content Editor 1