The Vice-Chancellor, Prof. Kolawole Salako has felicitated with HRM, Oba Saburee Bakre on his 60th birthday anniversary and first year on the throne as the Agura of Gbagura. Speaking during a courtesy call, the Vice-Chancellor lauded the royal father for promoting peaceful coexistence and development of Gbaguraland since his ascension to the throne of his fore-fathers, stressing that the appointment was well-deserved. The Vice-Chancellor, further revealed that the purpose of the visit was to strengthen the cordial relationship between FUNAAB and Gbaguraland, a host community of the University as well as rejoice with the monarch on the remarkable successes recorded since he assumed office. Prof. Salako informed the Agura of the alarming cases of illegal land-grabbers on University land while imploring him to use his esteemed office to intervene in the situation.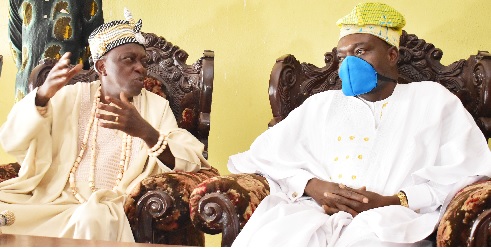 Responding, Oba Bakre called on land-grabbers to desist from further encroachment on FUNAAB land at Alabata and Mawuko. He assured the Vice-Chancellor that he would do the needful and bring those found guilty to justice. The Agura described the intrusion into University land as trespassing on government property, which he said is criminal, stressing that all trespassers should be reported for immediate action. Oba Bakre applauded the University for its contributions toward the development of Gbaguraland, Egbaland, Ogun State, and Nigeria as a whole through teaching, research and development activities.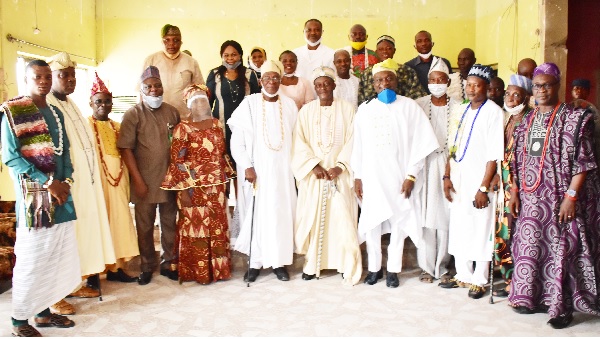 The royal father appreciated the Vice-Chancellor for maintaining cordial relationship with members of the University community and the populace, stressing that his ability to ensure the peaceful coexistence of FUNAAB with Gbaguraland and the Agura palace was worthy of emulation. Present at the palace were the Deputy Vice-Chancellor (Academic), Prof. Bolanle Akeredolu-Ale; Registrar, Dr. 'Bola Adekola; Deputy Registrar ll, Vice-Chancellor's Office, Mrs. ToyinDawodu; Head, Directorate of Public Relations, Dr. (Mrs.) Linda Onwuka; and Coordinator, FUNAAB Radio, Mr. Kola Adepoju, among others.
Last Updated on July 15, 2020 by FUNAAB