The Vice-Chancellor, Prof. Kolawole Salako has addressed participants of the Senior Executive Course (SEC) 42, 2020 of the National Institute of Policy and Strategic Studies (NIPSS), Kuru, via online Zoom meeting. The Vice-Chancellor, who spoke extensively on the topic, "Trends in Population Growth and Human Capital Development: Challenges and Prospects", noted the diversity of Nigeria in terms of people, culture and natural resources, saying that the country's population is estimated to be 206 million with 226 people per square kilometer.
Prof. Salako stressed the need for genuine ethical revolution from the family to national levels to change the pervasive trends among youths to engage in anti-social behaviours. He added that there is a need for adequate development of skills latent in the youths, who constitute 52% of the nation's population. The Vice-Chancellor stated that Nigeria is blessed with people who think deeply and that FUNAAB had equally taken the bull by the horn by expanding the cultivation of land through mechanised farming to produce more food. He highlighted the peculiarities of the University in terms of teaching, research and extension under which it carries out community development activities by charging the participants to work towards giving an enviable future to the upcoming generation, saying that the nation should re-invent its drive toward greatness.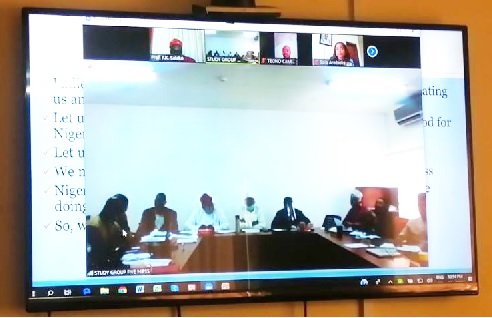 The Vice-Chancellor also pointed out that the potentials are there that if the enabling environment is created, there would be positive achievements, highlighting excellent performance of Nigerian graduates when given the challenge in multi-national companies within or outside Nigeria, particularly in advanced countries. Prof. Salako decried the phenomenon whereby foreigners invest in large-scale farming on Nigerian soil while Nigerians look for easy money by neglecting agriculture. He gave examples of such practice in Ogun State, pointing out that products from such activities are sold raw or as processed goods and at expensive prices. Attendees at the online meeting include the Vice-Chancellor, Olabisi Onabanjo University, Prof. Ganiyu Olatunde, high ranking officers of the Nigerian armed forces, police and top government officials in the country.
Last Updated on July 15, 2020 by FUNAAB