The Vice-Chancellor, Federal University of Agriculture, Abeokuta (FUNAAB), Prof. Olusola Babatunde Kehinde has made a case for exporting of the nation's agricultural products as a means of revenue generation and solution to improving on the country's agricultural output.
Professor Kehinde said this at the 5- day Capacity Building Workshop on Prospect of Vegetable Production for Domestic and Export Markets organised by the Directorate of University Farms (DUFARMS).
The Vice-Chancellor emphasised that the workshop will be a very rewarding exercise as countries are making progress and money in the area of exporting.
Prof. Kehinde encouraged everyone to bring useful suggestions on likely exportable products that will build the name of the University and the country.
Welcoming participants to the Workshop, Mr. Emmanuel Bankole, Director, DUFARMS said the program is in tandem with one of the tripodal mandates of FUNAAB. Especially the provision of Extension Services which entails community engagement, collaboration and cooperation. Mr. Bankole added that the workshop is also in agreement with the vision of the current University Management, which is aimed at strengthening productive collaboration and cooperation with all critical stakeholders in Agriculture and food production value chain.
He assured all partners that FUNAAB is open for serious business in technology transfer and capacity building to revolutionise agricultural production and make it attractive and profitable.
Earlier in his keynote address, the Deputy Vice-Chancellor (Development), Prof. Kola Adebayo also gave an insight on the prospects of vegetable production for the domestic and export market.
Prof. Adebayo submitted that vegetables are vital to the general good health of human beings.
He noted that it provides essential vitamins and minerals, dietary fiber, and reducing the risk of dangerous diseases and other medical conditions.
The DVC (D) also said commercial vegetable production is a high input and labor intensive activity that needs a large labour force from cultivation to processing.
He highlighted the benefits of vegetable production as having nutritional value, economic opportunities, environmental sustainability and food security.
Prof. Adebayo posits that the prospect of vegetable production for both the domestic and export market is promising.
"Vegetable production offers a range of benefits, overcoming challenges in quality compliance and infrastructure development; and market volatility will be crucial for effectively harnessing the potential of vegetable production and ensuring long-term success for farmers and the economy" he added.
In attendance were the Coordinator, Nigeria Export Promotion Council, Mr. Folorunsho Akintunde; Dr. Aikulola Olu Ola, Permanent secretary, Ministry of Industry, (Trade and Investment) Director, Federal Ministry of Agriculture and Rural Development, Dr. Toyin Ajayi; President, Ogun State Cooperative Federation, Mr. Wasiu Olaleye and Dr. Solape Awe, represented by Dr. Mrs Abidemi Olukoya of the Ogun State Agricultural Development program.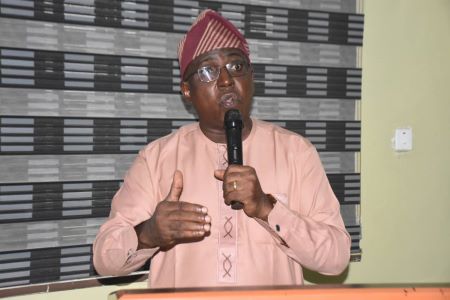 Last Updated on August 31, 2023 by Content Editor 1