The Vice-Chancellor, Prof. Kolawole Salako has once, again, emphasised his administration's commitment to excellence with the erection of infrastructural facilities in various parts of the University. He stated this while handing over project sites to contractors alongside Principal Officers and management staff of the University. Prof. Salako disclosed that his vision and mission for FUNAAB had always been tailored towards ensuring that the University achieves excellence in all ramifications. According to him, "The title of my vision and mission was, and is still, 'Excellence cannot be compromised' and if that is the case, there is no end to excellence. I'm not sure that any human being can conclude that he has achieved everything and if you are striving to be excellent, you get to a level of excellence and you realise that you still have things to do".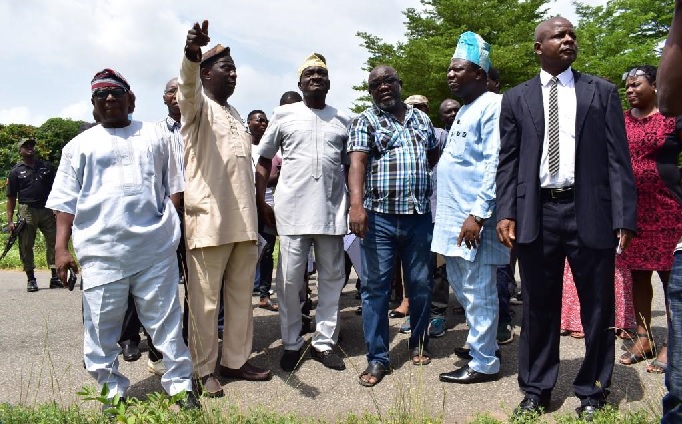 The Vice-Chancellor said that his motivation over the years was to keep working and achieving results for the benefit of mankind, stating that to serve God is to serve humanity. The Vice-Chancellor gave details of the projects under the 2017-2019 (Merged) Tertiary Education Trust Fund (TETFund) Annual Intervention as follows: Proposed construction of Academic Maintenance and Services Complex; proposed construction of Two-Storey Suspended Floors for the College of Physical Sciences (COLPHYS); construction of 250-Capacity Lecture Theatre; renovation of the Institute of Food Security, Environmental Resources and Research (IFSERAR) Building; renovation of Engineering Building COLENG (ETF 2003 Project); renovation of Agricultural Media Resources and Extension Centre (AMREC) Building (ETF 2003 Project); and Procurement and installation of furniture for the proposed construction of New Academic Staff Office Complex.
In the same vein, the Vice-Chancellor listed the proposed projects under the 2020 FGN Capital Appropriation projects as follows: Construction of Dam (Centre Pivot Irrigation System and Ancillary); rehabilitation of Camp to FUNAAB 3rd Gate Road, Intra Campus Road (FUNAAB Ceremonial Building Road); rehabilitation of Farm Facilities; Purchase of Farm Machinery and Equipment; and Supply and Installation of Internet Facilities and Computer Accessories.
… Shares FUNAAB's Effort on Food Security
After the handing over ceremony of project sites to contractors, the Vice Chancellor, Prof. Kolawole Salako shared some of the activities that the University had been involved in line with his mission and vision. According to him, to mitigate the effects of food insecurity, the University had been highly involved in food production. "FUNAAB has maize and rice farm among other crops, which were planted in response to the likely Post-Coronavirus disease (COVID-19) food shortages", he said. He informed that the University has its own value addition factory where cassava is processed into different things such as high quality cassava flour, 'garri', odourless 'fufu' and some confectioneries, adding that FUNAAB was doing its best to contribute to feeding Nigeria, even though the University was not established to mass produce food.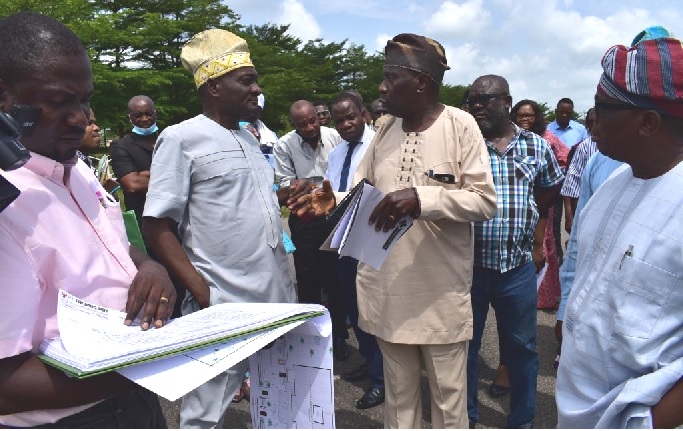 Prof. Salako added that the University, through its extension service unit, shares research breakthroughs that can be adopted for other agricultural activities to improve their livelihood by serving as a money-spinning venture for them. "In terms of our contributions to feeding Nigeria, we are doing our bit but the University was not established to mass produce. What we have done is to help small scale industries to really adopt some of our technologies and some of our research output like the odourless 'fufu' and many of the small scale industries today are producing odourless 'fufu' all over the place", he said. Prof. Salako advocated for the support of the government in providing basic amenities such as accessible roads in rural areas, constant electricity supply and water among others, to sustain agriculture as a key factor in food production, stressing that the government has a role to play in nation building to make the citizens more patriotic and productive.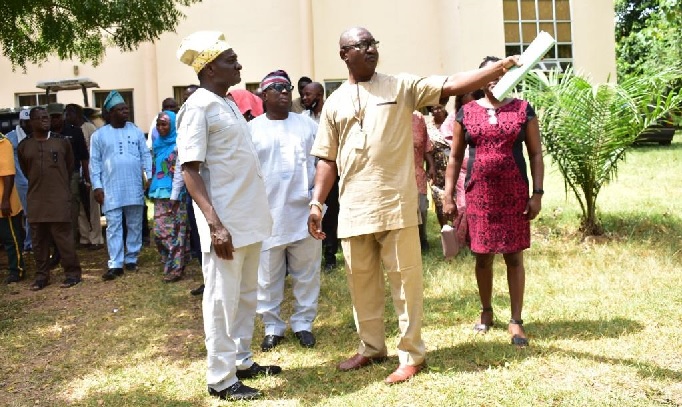 The Vice-Chancellor further charged the government to empower Nigerian youths and encourage them to practice agriculture, noting that agriculture had been made easy through the invention of various digital agricultural applications. For the Don, "When I say agriculture, I'm not talking about hoe and cutlass agriculture, but digital agriculture. There are so many applications that can be used to manage soil and water today. You can be right where you are and irrigate your crop anywhere in the world and also control your irrigation system with some applications that work with satellite. You can also spray with drones". The Vice-Chancellor encouraged youth farmers to look beyond the surface of agricultural practice, stating that agriculture can accommodate all professions irrespective of their fields of practice.
Last Updated on November 17, 2020 by FUNAAB