The Vice-Chancellor, Prof. Kolawole Salako has enumerated some of his major achievements in office as the Sixth Substantive Vice-Chancellor of FUNAAB. According to the Vice-Chancellor, his passion to contribute meaningfully to the development of the University is hinged on the need to strive for excellence to create a society that works. The Vice-Chancellor stated this while reacting to questions on how FUNAAB had fared under his leadership in the past three years from the Education Editor, BusinessDay newspapers, Mr. Mark Mayah. Prof. Salako disclosed that when he applied to become the Vice-Chancellor of FUNAAB, he developed a template to guide his actions and that, "The first one was on my own vision and mission, titled "Excellence cannot be compromised".
The Vice-Chancellor reiterated that his core values include respect for humanity and society, integrity, justice and fair-play, productivity and harmony without compromising discipline. He equally noted that the template of his action plans also contained his 12-point agenda, which he had followed religiously. Speaking on academic standards and quality assurance in FUNAAB under his watch, Prof. Salako said, "I am glad to tell you that the University achieved 100 percent accreditation. Out of 19 programmes due for accreditation in 2019, 18 had Full Accreditation while one had Interim Accreditation". He revealed that full accreditation implied that there would be no need to carry out accreditation exercise for those programmes until after five years while interim accreditation is valid for two years, which affects only Mechatronics Engineering because other Engineering programmes had Full Accreditation.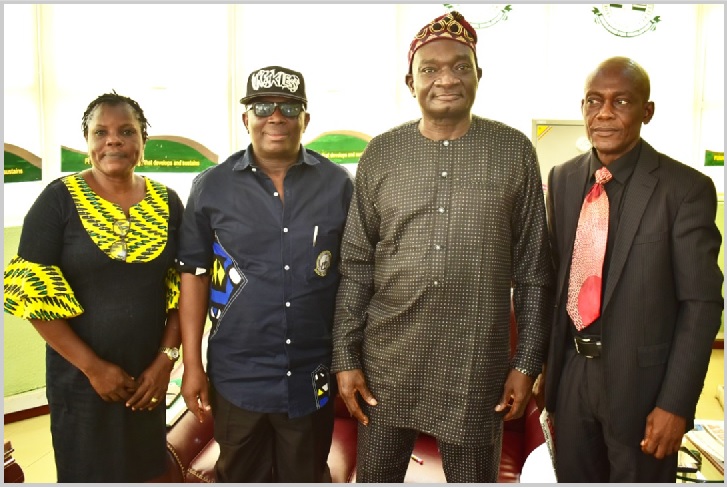 The Vice-Chancellor added that FUNAAB was the first University to obtain international accreditation for its Centre of Excellence in Agricultural Development and Sustainable Environment (CEADESE) programme. The accreditation was carried out in 2019 by the Board of the Agency for Quality Assurance System (AQAS) in Germany. "Four Postgraduate programmes were accredited. The centre had international students from the Benin Republic, Liberia and The Gambia", he added. He informed that FUNAAB students had shone well in professional examinations conducted by various bodies such as the Institute of Chartered Accountants of Nigeria (ICAN), Chartered Institute of Bankers (CIBN) and the Council for the Regulation of Engineering in Nigeria (COREN), of which FUNAAB student came first in one of the competitions.
The Vice-Chancellor lauded the Federal Government for the provision of capital funds, stating that 16 projects, which include farm machinery, road rehabilitation, and improvement of Internet facilities and 12 others, had been supported. He stressed that infrastructural development was on massive scale including classrooms and teaching facilities, among others. He disclosed that hand sanitizers were made by the Biotechnology laboratory for all stakeholders in the University as well as an increase in the acreage of crops planted to prepare for Post COVID-19 food scarcity. Prof. Salako showcased the University's effort at commercialising creative and innovative breakthroughs from within and outside the system. According to him, "The odourless 'fufu' produced in our cassava factory is a product of research in FUNAAB and many Small Enterprises are producing it now on a commercial level, same for high quality cassava flour, palm wine, FUNAAB Alpha chicken, which is an improvement of our local chicken and is being marketed for the benefit of the communities".
Last Updated on November 17, 2020 by FUNAAB