The Department of Pure and Applied Botany, College of Biological Sciences (COLBIOS), has organised a befitting Send-Forth Ceremony in honour of its pioneer Dean, Prof. David Agboola, who retired from the University after a meritorious service and attaining the age of 70.
Speaking at the occasion, the Vice- Chancellor, Prof. Felix Kolawole Salako, emphasized the importance of celebrating those that have contributed to the growth and development of the University in one way or the other, stating that such celebration also shows that their efforts are well appreciated.
Describing the celebrant as a vibrant and agile personality, the Vice-Chancellor commended Prof. Agboola for his efforts and contributions to the overall development of the University, wishing him the best in his future endeavour.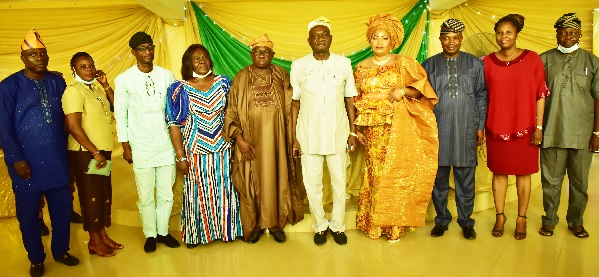 Prof. Salako reiterated the commitment of the University Management to the overall development of the institution, saying the Management is not resting on its oars in ensuring that the quality of academics is improved upon.
According to him, efforts are being made to replace retired staff from both academic and non-teaching.
He admonished all to familiarize themselves with the rules governing the University, stating that recruitment process cannot be handled by the University alone.
The Vice-Chancellor said, "We are not resting on our oars to improve the quality of academics and we are making efforts to replace retired lecturers as many are now retiring due to age and other factors.
"However, for recruitment to take place, approval has to be given to the University from above and rules and regulations must also be complied with. We need to understand the University because recruitment is not an easy process and the University alone cannot make the decisions."
Prof. Salako enjoined all members of staff to verify any information they have and always find out the truth before circulating such information to avoid giving out false information that could jeopardize the image of the University.
In his remarks, the Dean, College of Biological Sciences (COLBIOS), Prof. Oluseyi Akinloye, described Prof. Agboola as an examplary leader and father to all who believes that no matter how bad a person is, God can turn his or her situation around and make the person better.
He explained that, over the years, Prof. Agboola had been instrumental in changing the situations of some students who were at the edge of dropping out of the University due to various challenges.
He pointed out that as the Pioneer Dean of COLBIOS, Prof. Agboola laid a very solid foundation for the College and was very much concerned about the progress of his Department and the College as a whole even before and after his retirement.
Speaking in the same vein, the Head of Department, Pure and Applied Botany, Dr. Abiodun Oyelakin, said the Department is very proud to be associated with the retired don, adding that Prof. Agboola is well loved by staff and students of the Department and College in general.
He revealed that he always went the extra mile for people and would never discriminate among students or staff.
Dr. Oyelakin, who appreciated the celebrant for inculcating the good values of academic and morals excellence in his students also mentored some of who are now in professorial cadre.
In their separate Goodwill Messages, the former Acting Vice-Chancellor, Prof. Ololade Enikuomehin, former Deputy Vice-Chancellor (Academic), Prof. Yemisi Eromosele, and Dean, Post Graduate School, Prof. Wilfred Alegbeleye, described Prof. Agboola as a jolly good fellow, an extremely tolerant, generous and caring person who always sees the good in every soul, loves all students equally and looks out for the interest of all staff.
The trio congratulated him for doing a good job to be proud of, adding that they identified with him as a worthy example to be emulated.
Corroborating them, the Director Academic Planning, Prof. Iyabode Kehinde, attested to the generosity and accommodating nature of Prof. Agboola and prayed for good health and long life for him.
Also, a student of Pure and Applied Botany, Joy Adeola Odeyingbo, appreciated Prof. Agboola for being a source of inspiration to all and a motivation to her in particular at a time when she almost lost interest in her studies.
She thanked him for sharing his experience with her and all students, and for taking out time to ensure they understood all topics.
She described Prof. Agboola as a man of honour whose honesty and simplicity is next to none and prayed God to reward him greatly.
Responding, Prof. Agboola, who prayed for the souls of his departed colleagues, appreciated God for helping and keeping him thus far, stating that only God could have made it possible.
Overwhelmed by the outpouring of encomiums and commendations showered on him, the celebrant thanked the University Management and the members of staff of COLBIOS and Pure and Applied Botany for taking out time to celebrate him.
He encouraged them all to be truthful, objective, hardworking and be committed to their duties always, stating that there is always a great reward for hardwork.
Highlight of the occasion was the presentation of gifts to Professor David Agboola.
Last Updated on March 16, 2021 by FUNAAB