By Emeka Oluka
The Part-Time Degree Programme (PTDP) of the Federal University of Agriculture, Abeokuta (FUNAAB) has orientated a total of 208 newly-admitted students for the 2022/2023 Academic Session.
Welcoming the newly-admitted students on behalf of the Vice-Chancellor, the Coordinator, Part-Time Degree Programme, Dr. Adeyinka Aladesida tasked the students to take their studies with utmost interest.
He noted that FUNAAB is a University of repute they can be proud of, adding that the certificate they would receive at the end of their studies is the same as the full-time students.
The students were also addressed by stakeholders from various relevant units of the University to help guide their career progression in their course of study.
Among those who addressed the students were, the Deputy Dean, Student Affairs, Prof. Oluseyi Ojekunle; the University's Counsellor, Dr. Modesta Ofodile; the representative of the Deputy Registrar I, Senate and Admissions, Dr. Abdussobur Salaam and the representative of Deputy Registrar II, Exams and Records, Mr Adewale Ojoye.
Photo credit: Gbolahan Lawal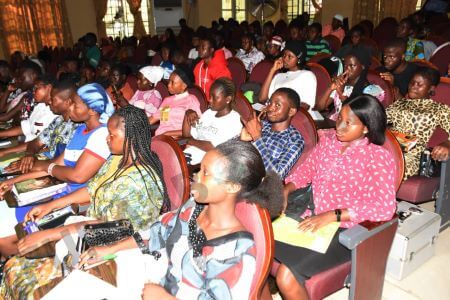 Last Updated on November 17, 2023 by Olalekan Erinfolami