By Joy Adeyiga
The much-awaited 2023 Programme Accreditation Exercise has started at the Federal University of Agriculture, Abeokuta (FUNAAB) amidst a thorough process overseen by representatives from the National Universities Commission (NUC), spanning the next three days.
The official reception for the delegates took place at the Vice-Chancellor's Conference Room A.
The delegation consisted of three groups of three members each. Their primary task is to accredit three specific Departments, which are Entrepreneurial and Development Studies, Home Science and Management, as well as Hospitality and Tourism Management.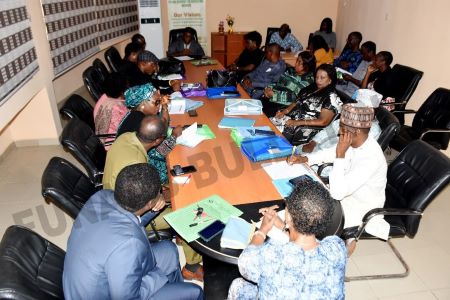 While receiving the delegates, the Vice-Chancellor, Prof. Babatunde Kehinde, expressed appreciation to all the Team members for visiting FUNAAB.
Represented by the Deputy Vice-Chancellor, Academic, Prof. Christian Ikeobi, the Vice-Chancellor emphasised the critical role of accreditation in the growth and development of Nigerian universities aspiring to enhance their mandates.
The Vice-Chancellor highlighted its importance for quality assurance and the maintenance of standards in curriculum, teaching, and other university aspects.
Prof. Kehinde assured the delegation of FUNAAB's hospitality, expressing confidence that their reports and feedback would contribute to ensuring that the University remains on the right trajectory.
The Vice-Chancellor also extended gratitude to the NUC for its regulatory role in Nigerian universities, acknowledging its responsibilities in maintaining high standards and personnel quality in various staff cadres.
He stressed that this oversight also facilitated the admission of suitable students into different programmes.
Prof. Kehinde reassured the delegates that the Deans of Colleges and Heads of Departments (HoDs) were prepared to guide them through a tour, showcasing previous documents, available equipment, and facilities in various programmes for assessment.
Responding, the Team Leader for Hospitality and Tourism Management from Michael Okpara University of Agriculture (MOUA), Umudike, Prof. Chukwuemeka Ngoka, expressed appreciation for the hospitality extended to the delegation since arriving in FUNAAB.
He clarified that, by NUC guidelines, the delegates were not there to find faults but to identify areas for improvement and provide solutions. He assured the University that his team would diligently follow the NUC Code of Conduct, ensuring a thorough evaluation.
Last Updated on November 17, 2023 by Content Editor 1