FUNAAB Staff School was aglow with excitement on Wednesday December 14, 2022 as a Send-Forth Ceremony was held in honour of the immediate past Vice-Chancellor, Prof. Felix Kolawole Salako amidst dancing and jubilation in recognition of his exemplary leadership and excellent achievements.
The immediate past Vice-Chancellor who many acknowledged to have endeared himself to the teeming members of the University Community while in office, was surrounded by staff members, pupils, parents, and well wishers who converged to celebrate his laudable legacies.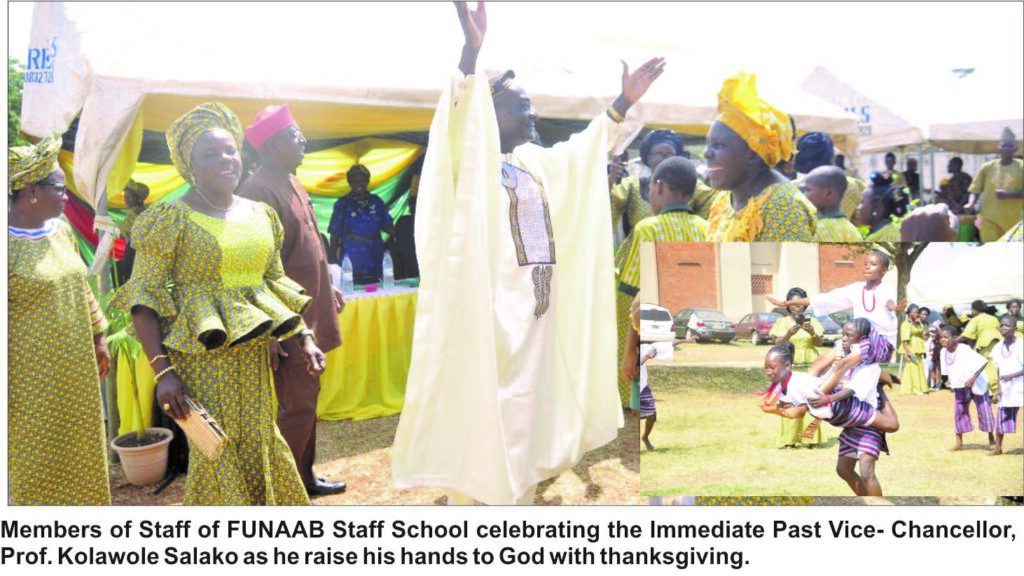 Delivering his Remarks, Acting Vice Chancellor, Prof. Babatunde Kehinde congratulated Prof. Salako for giving his all to FUNAAB , stating that he served God, humanity and the University meritoriously.
The Ag. Vice-Chancellor disclosed that while in office, he put many lasting structures in place, adding that even after his exit, progress are still being made based on the legacies he left behind.
According to him, "God gave you an opportunity and you used the opportunity to the maximum. You served God and you served humanity and FUNAAB. Meanwhile, not only did we have all these structures and projects in place when he was in office till his exit, after his exit, we were still making progress based on the legacies he left behind".
The Acting Vice-Chancellor appreciated him for his many efforts in ensuring that the school is at the forefront of many developments, affirming that he has left an indelible mark in the hearts of all.
Also speaking, the Deputy Vice-Chancellor Academic and Chairman, FUNAAB Staff School Management Board, Prof. Christian Ikeobi described the Immediate Past Vice-Chancellor as an achiever and a goal getter, disclosing that in the history of the University, Prof. Salako stands tall in the midst of all.
He extolled him for touching the lives of staff positively through mentoring, promotion, conversion and motivation among others, stressing that he's indeed a benefactor and an humane individual who is touched by the feelings of others.
Earlier, In her Welcome Address, the HeadTeacher, Mrs. Florence Alade applauded Prof. Salako for his numerous efforts in making FUNAAB Staff School stand tall despite all odds.
She said that his unrelenting efforts has made it possible for all members of staff to remain in the services of the University, noting that they are graciously privileged to have a caring father like him who made their sustenance a priority with prompt payment of salaries during the school crisis.
According to her, "We have witnessed the hardship of our counterparts in other Universities who are no more recognized as staff, the appointments of some were terminated from the services of the University and some of them were not paid salary for several months, but graciously, we are privileged to have a caring father like you who has made our sustenance a priority", she said.
Mrs. Alade hinted that under his leadership, notable projects were implemented among which are; construction of road from FUNIS gate to FUNAAB Staff School, prompt payment of salaries during Staff School crisis, Procurement of furniture for both staff and pupils, tiling, roofing and repairs of classrooms, offices and toilets, repair of borehole, enhancement of the transportation services for pupils and prompt approval of the school's requests.
Responding, Prof. Salako expressed appreciation for the great honour by staff of the school, saying that it was the first Send-Forth Ceremony he was attending in person since his exit from office.
He pointed out that his presence at the ceremony was a divine arrangement by God, and thanked the Almighty for helping him to honour the children, declaring that they are very dear to him.
The immediate Past Vice-Chancellor described the young ones as weapon of strength and heritage that should be relied on, stressing that they must be guided and nurtured always.
Commending the efforts and support of his team, he thanked God for seeing him through his tenure in office, stating that whatever he has achieved was with the help of God and his fellow Management Team.
Prof. Salako also expressed his happiness with the dedication of all teachers and staff, warning them to shun unbridled unionism in the university to avoid killing the system.
Also, the Department of Soil Science and Land Management (SS & LM) and the entire College of Plant Science and Crop Production (CLPLANT) equally gave a heartwarming home coming and reception to honour Prof. Salako back to his college and department after his exploit and achievements as a worthy ambassador of the department and college .
Receiving Prof. Salako were the Dean, COLPLANT, Prof. Jonathan Atungun, Head of Department, SSLM, Prof. Bolarinwa Senjobi and all notable academic and non-teaching staff of the College and University at large, who while speaking separately extolled the virtues of the the Immediate Past Vice-Chancellor, Prof. Kolawole Salako.
Last Updated on December 23, 2022 by FUNAAB